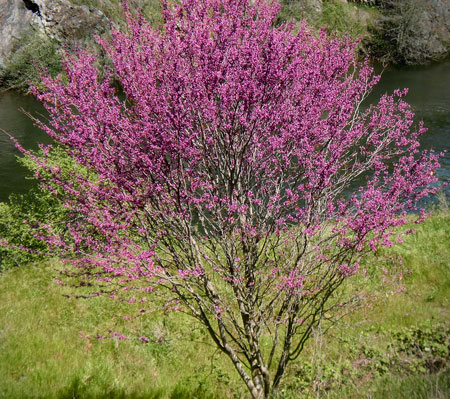 Ahhh... The woody segment of our plant family. Trees and shrubs add strengh and silhouette to a garden, the "backbone", as it were. Though we do not currently grow many members of this crucial faction, there are some that we would not be without; for their beauty, for their structure, and for what looks to us to be their loving, ever patient embrace of the garden.

Trees and shrubs, including shrublets, are listed here.
Click on your selection to learn more about the plant.
Abutilon hybridum 'La vie en Rose'
Dwarf Flowering Maple
Laurus nobilis
Sweet Bay Laurel
Acer macrophyllum
Big Leaf Maple
Lonicera interrupta
Chaparral Honeysuckle

Aesculus californica
California Buckeye
Philadelphus lewisii
Lewis' Mock Orange
Arctostaphylos 'Emerald Carpet'
Emerald Carpet Manzanita
Philadelphus microphyllus
Littleleaf Mockorange
Arctostaphylos densiflora 'Howard McMinn'
Howard McMinn Manzanita
Physocarpus opulifolius 'Midnight'
Midnight Ninebark
Arctostaphylos x 'Pacific Mist'
Pacific Mist Manzanita
Pomegranate, 'Wonderful
Punica granatum 'Wonderful'
Baccharis pilularis 'Pigeon Point'
Pigeon Point Coyote Bush
Ribes aureum
Golden Currant
Berberis x gladwynensis 'William Penn'
William Penn Evergreen Barberry

Ribes Nevadense
Sierra Currant
Calycanthus occidentalis
Western Spice Bush

Ribes sanguineum glutinosum
Pink Flowering Currant
Carpenteria californica
Bush Anemone
Rosa banksiae 'Lutea'
Lady Banks Climbing Rose
Caryopteris incana
Autumn Blue Spirea
Rosa 'Highveld Sun'
Highveld Sun Groundcover Rose
Caryopteris x clandonensis
Bluebeard
Rosa woodsii
Interior Wild Rose
Ceanothus gloriosus 'Anchor Bay'
Anchor Bay California Lilac
Rosmarinus officinalis 'Benenden Blue'
Benenden Blue Upright Rosemary
Ceanothus 'Joyce Coulter'
Joyce Coulter California Lilac
Rosmarinus officinalis 'Prostratus'
Trailing Rosemary
Cercis occidentalis
Western Redbud
Rubus pentalobus
Creeping Bramble

Chaenomeles speciosa
Flowering Quince-pink form
Salvia 'Bee's Bliss
Bee's Bliss Creeping Sage
Chilopsis linearis
Desert Willow
Salvia chamaedryoides
Germander Sage
Cistus 'Jessamy Beauty'
Jessamy Beauty Rockrose
Salvia clevelandii
Cleveland Sage
Cistus salvifolius prostratus
Sageleaf Rockrose
Salvia greggii pink form
Pink Autumn Sage
Cistus pulverulentus 'Sunset'
Sunset Rockrose
Salvia x jamensis 'Hot Lips'
Hot Lips Sage
Clematis lasiantha
Pipestems
Salvia x jamensis 'Sierra de San Antonio'
Sierra de San Antonio Sage
Cornus nuttallii
Pacific Dogwood
Sambucus mexicana
Western Blue Elderberry
Cornus sericea
Western Redtwig Dogwood
Santolina rosmarinifolia 'Lemon Fizz'
Lemon Fizz Lavender Cotton
Cylindropuntia imbricata
Tree Cholla
Sequoiadendron giganteum
Giant Sequoia
Fremontodendron californicum x mexicanum'California Glory'
California Glory Flannel Bush

Spiraea (densiflora) splendens
Mountain Spirea
Ficus carica
Green Fruiting Fig
Teucrium fruticans
Bush Germander
Helianthemum nummularium 'Henfield Brilliant'
Henfield Brilliant Sunrose
Vitex agnus-castus
Chaste Tree
Heteromeles arbutifolia
Toyon
Vitis californica red form
California Wild Grape
Jasminum mesnyi
Primrose Jasmine
Vitis labruska 'Concord'
Concord Grape